Pop Bottles One Can At A Time
Sparkling White
The Wine you've been waiting for.

Made by wine lovers... for wine lovers. BRŸT Sparkling White wine is lightly fizzy, dry in style & dangerously refreshing.

All of our wines are made from grapes carefully selected from vineyards in northern Italy. Once the grapes are perfectly ripe, they're picked & brought to the winery.. that's where the magic happens. When the wine reaches perfection, we push a few bottles out of the way and fill our beautiful cans instead. Each 3-pack is equivalent to 1 bottle of killer bubbles.

From Italy, to your cooler.

Yeah... We put it in a can... You're welcome.
Pop Bottles One Can At A Time
What makes us different?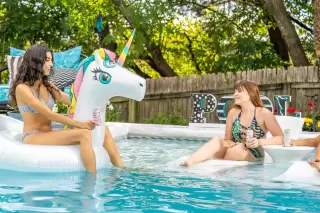 Quality comes first.

Wine first found its way into cans years ago. Plenty of wineries jumped at the opportunity to lead the way into this new direction wine was moving in. The possibilities were endless and this would certainly change the way people drink wine. Sure enough, the wineries got busy, cans were filled and they hit the shelves in no time. There was one problem, the wines weren't very good.

Making good wine isn't easy, it isn't cheap and it certainly isn't made quickly. Even after making a great wine, canning it without affecting the quality is still very challenging. Much to the surprise of many of these wine makers, even when wine is in a can... Quality matters.

Our team at BRŸT Wines spent years perfecting our products before making them available for purchase.

We have no interest in being first, we only care about being the best. That is what makes BRŸT different.